A Great Place to Work
Medica Billing is a leading medical billing company focused on delivering measured results with client collections. We are a tight-knit team of professionals looking for like-minded individuals to help us streamline business solutions for healthcare providers across the nation. If you're looking for a fast-paced career and the opportunity to do the best work of your career – we can't wait to connect over your application.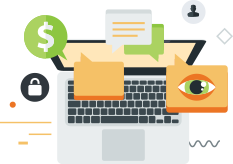 What We Offer
Beyond having a great team to work with, we offer competitve salary and benefits you'll appreciate, including:
Supplemental Life Insurance
Medica Billing works tirelessly to serve as our clients' medical billing partner. We help ensure compliance, manage collections, offer comprehensive support, and beyond so businesses can maximize efficiency. We're looking for a few good candidates to help us with our mission. If you think you have what it takes, join us!
Current Openings at Medica Billing
Department
Customer Success
Effective communication and coordination with insurance companies and clients to obtain the maximum benefits for our clients.